Corporate Loge Sponsorship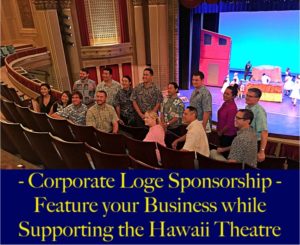 Our Corporate Loge Club Sponsorship program provides businesses with a variety of opportunities to enjoy world-class entertainment at the iconic Hawaii Theatre while building relationships with clients or socializing with colleagues in an elegant setting. Your participation in this program helps to support our mission of preserving historic venues, offering arts education to schools across Hawaii, and expanding access to arts and culture by donating thousands of tickets to community organizations each year.
Become a Corporate Loge Club Sponsor of Hawaii Theatre Center and enjoy a variety of benefits from discounts on Hawaii Theatre Presents shows, presale ticket purchase opportunities, and much more. Join "The Club" of the most admired and socially responsible companies who understand the importance of a vibrant arts scene in Honolulu by becoming a Corporate Loge Club Sponsor today!
How does your Loge Club Sponsorship make a difference?
Helps protect and preserve this grand historic building, with its grand columns, period architecture and our historically significant 1921 Robert Morton pipe organ.
Builds momentum in our efforts to transform our surrounding community as the Arts and Culture District in Honolulu's historic Chinatown.
Supports award-winning programming that enlightens and entertains.
Promotes excellence and innovation, as recognized by prestigious national organizations such as the League of Historic American Theatres.
Instantly become part of The Club of supporters who have preserved the Historic Hawaii Theater Center for the benefit of future generations.
Learn more about becoming a corporate sponsor by contact Ron McDaniel, Director of Communications at (808) 791-1397 or ronmcdaniel@hawaitheatre.com.
Steven and Marilyn Katzman Philanthropic Fund
Atlas Insurance Agency Foundation

First Insurance Company of Hawaii

Island Insurance Foundation

Salem Media Group

Allied Builders

Cronin, Fried, Sekiya, Kekina & Fairbanks

808 Video Productions

Arcadia Family of Companies

Aloha Graphics Inc.

Auto Perfection LLC

Ernst and Young LLP

Fly Straight Media

Honolulu Time Company

Securitas